Completed 28 yesterday... Thanks a lot to all those who did wish, and to all those too who are gonna wish me after reading this and cudnt earlier, know that you all werent aware...
Now 17th hold a great importance in my life beacuse
17th May :Moi B'day
17th June: B'day of someone special
17th Dec: Another special day as many of u said...
So yes, 17th is special for me ;) :D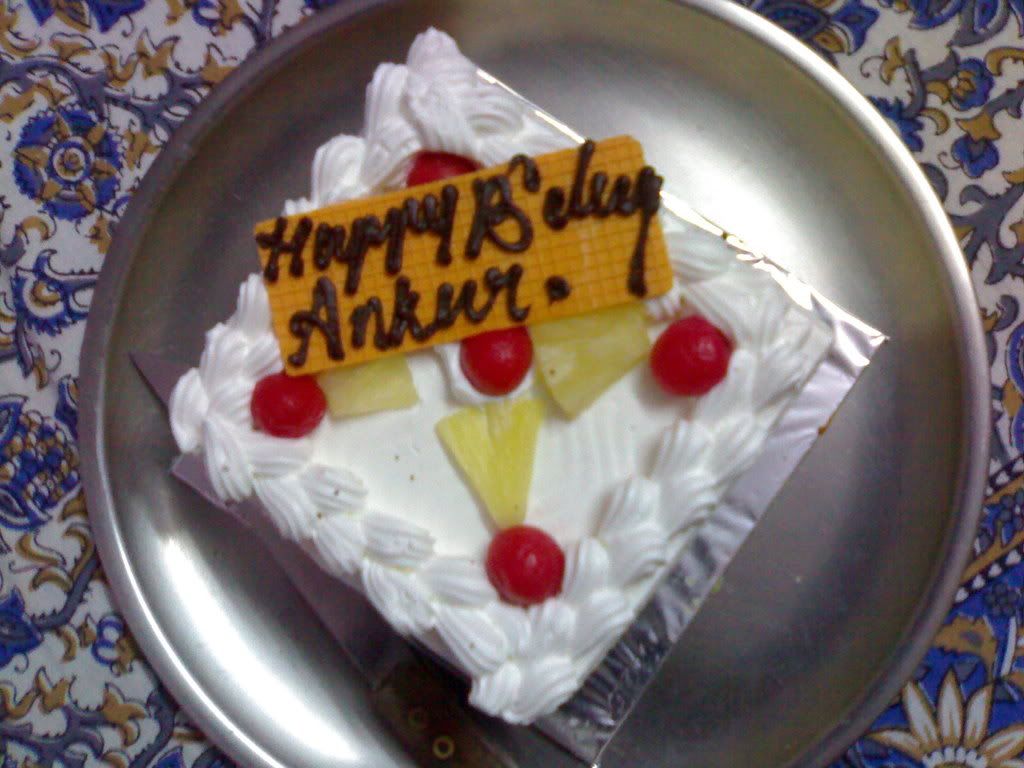 My roommate and good friend Nilesh got this for me!!! :D :D
It was a fantastic day yesterday as friend came down from Mumbai and another cudnt came coz of flight delay!!! but a lot many friends from bloggersville too made it memorable by wishing me (actually remmebering it is a big task :D )
The most memorable thing which happened was that my parents and relatives partied on my behalf, called me, and they sang happy birthday to me (WOW!!!)... and my JAAN cut the cake (idiot) and also he was itraooing too... but i was really surprised as they didnt tell me this thing in the morning... oh i love and miss u all!!! :D :D

So there were actually 2 dinner parties thrown, one back at Jaipur and 1 here in Pune by me... BASHOs is the name of the place where we visited!!!

Another memorable thing happened in the noon when a friend of mine called me and she told me as she wasnt here and cudnt gift me something... she wrote a small piece for me which goes like this...

दोस्त तेरी दोस्ती अज़ीज़ है ,
तुझ से मिले नहीं फिर भी तू करीब है,
मोड कैसा भी हो जिस पर हम मिले,
खुदा की रजा से हम मिले हैं हम खुशनसीब हैं

and it goes like this in english...

Friend your friendship is very precious,
Havent met but still we are very near,
whatever were the crossroads where we met,
we are lucky that we met by the wish of god.
Aww.. Thanks a lot, You really made me feel special!!! :)

Also searched a lot to buy a new clothes and pair of new shoes (like a kid who's dying to shop on bday :D) in the noon but cudnt get one :( (I am really choosy when i go with the mood to shop, and when i m not in the mood then i like many :P).
Finally we went to Landmark in the night coz i wanted to buy something and friends were saying that i should something... i did buy.. Discovery of India by Jawahar Lal Nehru, an old book but recetly adviced by someone when i was travelling.

It was a great day yesterday... enjoyed a lot after a long time and Thanks to all dear friends who were there with me...

And yes, a friend recently said abt obesity and i m taking it positively and I am sure am going to reduce 5 kgs in the coming month, so 17th Jun.. i will be 75kgs, not 80... and do i look like 100??? :P :P
hehe... but yes, gonna work a lot on obesity... i know u said it for my good!!! :)

Hoping tat I will become a lil better human with time!!!

Cheers!!!