I am back after a long vacation from back home... It was fun and costly too (cozz of Rakhi! !:P )
hehe...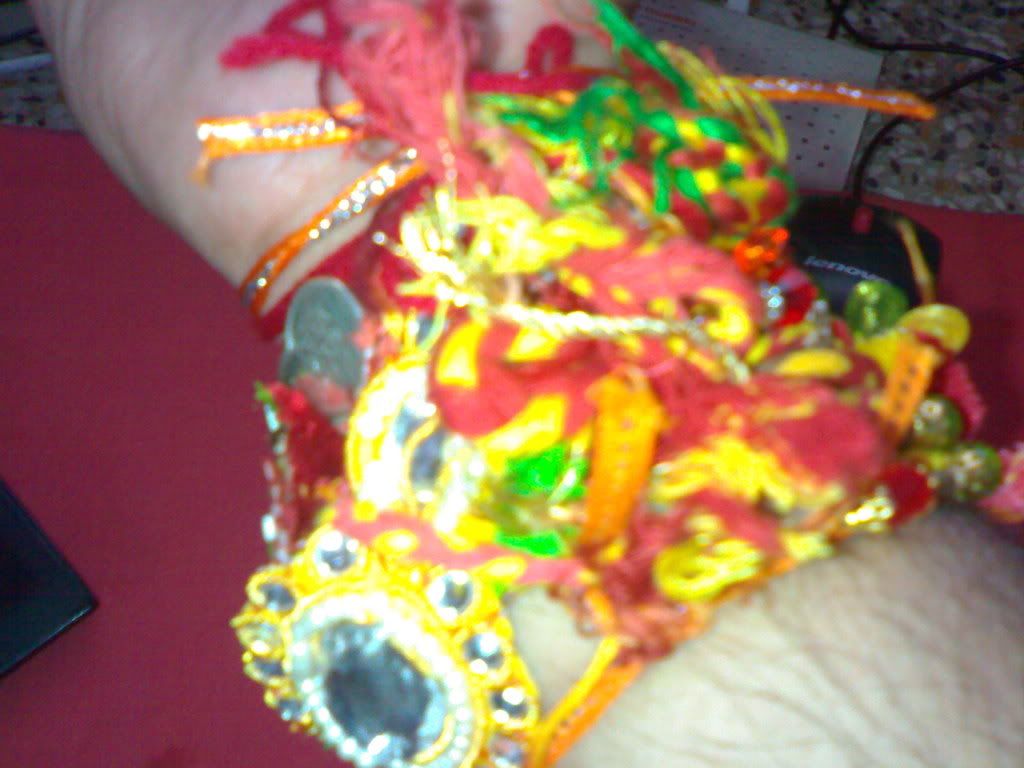 On the eve of Rakhi, me with my cousins and Chachi(Aunt) went to eat some chat pakodi, and the shopkeeper asked me, Bhaisahab, aapki Rakhi ki shop hai!! :P
Look at my hand...
hehehe
and i said, nahi, but i have sisters in lot!! :D
and i m lucky with that, i have so many sisters that i feel lucky to be pampered by them!! :D
Also trying to catch up with all of your blogs but i think the backlog will take some time for me to do the act!! :D
But yes, the good news is that it was a great day for Indian Sports, and finally we won 2 medals in Beijing today (1 Bronze, and 1 more bronze atleast), so its time to cheer up. Hopefully this will make the government realize and take some steps towards the betterment of Sports.
Also to mention the fact that this country has a popular slogan, which is... "Kheloge koodoge toh banoge kharab, padhoge likhoge toh banoge mahan..." and i think its time to change the mentality towards the sports and sportsmen. They come from our families only, and we need to praise them for what they are doing. Medal or no medal, but them having the fighting spirit is what matters in the end.
Also liked the approach of Media too which actually didnt showed the cricket news, but kept focusing on the athletics achievement in Beijing. Time for some change now i guess!!!
Also, Indian cricket team finally won a one dayer in Sri Lanka and Mr Mendis didnt trouble them much. I hope in coming future they are not going to be bowled completely over by Mendis Gugly!! lolzzzz